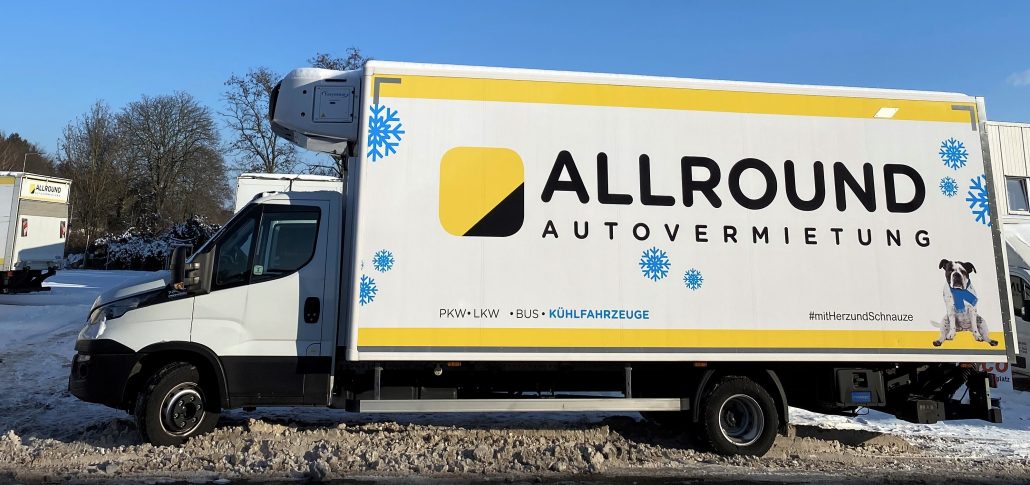 Hire a refrigerated vehicle for long-term periods in Berlin, Hannover, Leipzig & Augsburg
Our fleet offers you a broad variety of refrigerated vehicles which you can pick from for attractive long-term rental prices. Just tell us the size and specification and we will get back to you with a personalized offer. You are looking for a specialized refrigerated vehicle? From small fresh product transporters through refrigerated swaps
with tail lifts to refrigerated trailers and bridges – Just tell us what you want, and we will find the right fit for you!
If you want a model or if you are looking for specific features, don't hesitate to contact our team any time!
Take advantage of a refrigerated vehicle hire for long-term period prices: ALLROUND guarantees you numerous services which are inclusive when renting with us. Regular reviews and maintenance for your personal and staff´s safety are as self-evident as a replacement vehicle in the unlikely event of technical defects.
Our refrigerated vehicle category sites allow you to get a better overview of our rental fleet. Requesting a vehicle made easy: a few clicks only to get in contact with us via e-mail or the contact form below! Of course, we are delivering our refrigerated rental vehicles directly to your place of choice for affordable prices. Also, 8 stations in Berlin, Hannover, Leipzig & Augsburg are always around the corner. Our friendly staff will be happy to answer all questions on site as well as via telephone. Just feel free to reach out to us when it comes to hiring a refrigerated vehicle.
For enquiries regarding a hire for long-term periods please send your request to [email protected] or use the contact form below. We will get back to you with a individual offer as soon as possible.
Your ALLROUND rent-a-car team in Berlin, Hannover, Leipzig & Augsburg