Rent Camper & Motorhomes in Berlin, Hannover, Leipzig & Augsburg
Don't we all know it, long car rides and late arrival at the destination? The huge luxury that a camper, or a motorhome offers is the freedom to stop whenever and wherever and spend the night. ALLROUND car rental offers high-quality Mercedes-Benz camper model in Berlin, Hannover, Leipzig & Augsburg. As of now, full-size motorhomes / campers can also be rented at our location in Leipzig.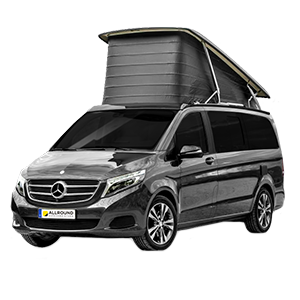 Category B6
e.g. MB V-Class Camper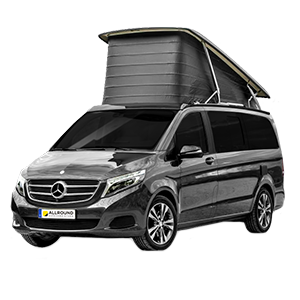 Category B7
e.g. MB V-Class 4WD Camper Marco Polo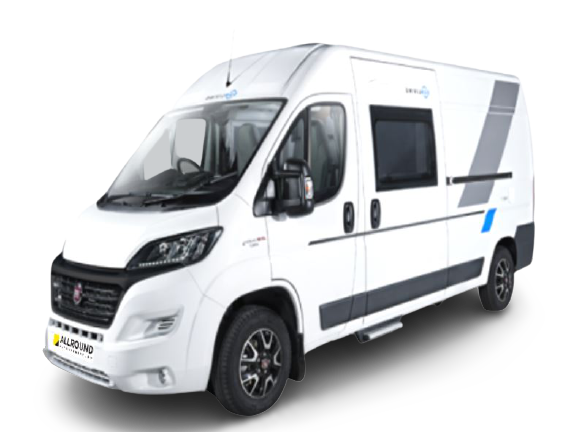 Category CA1
e.g. Fiat Ducato Sun Living V65 SL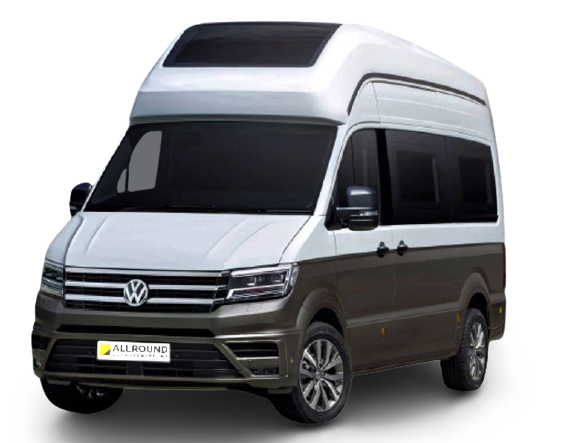 Category CA2
e.g. VW Grand California 600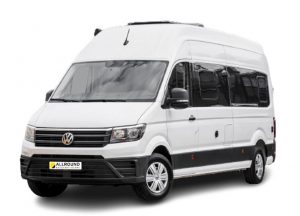 Kategorie CA3
z.B. VW Grand California 680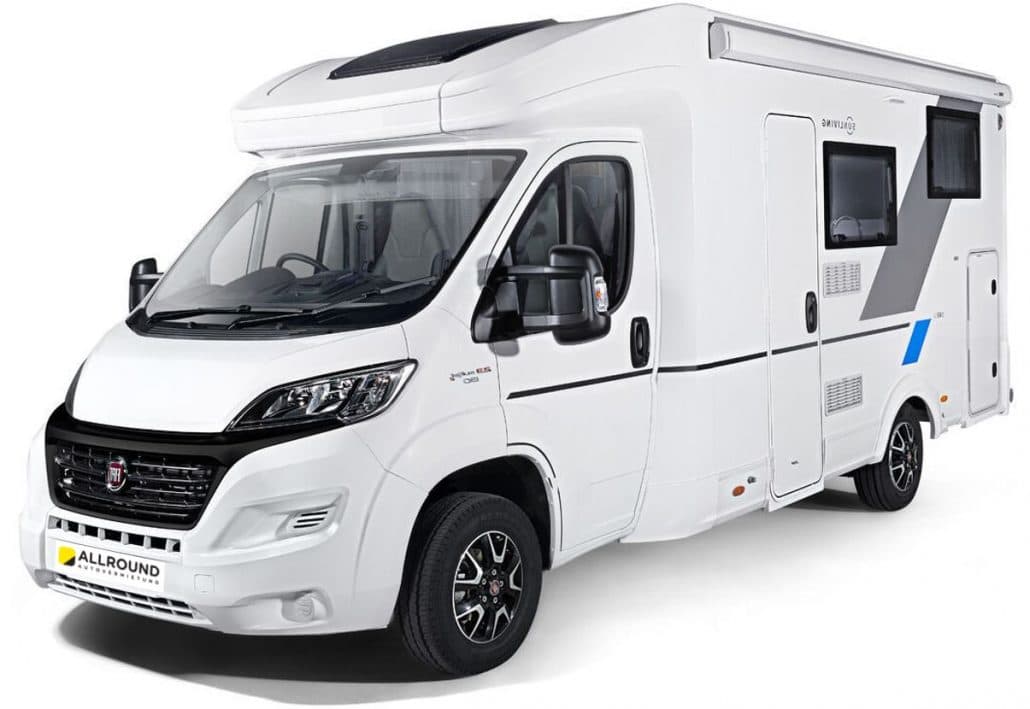 Kategorie CA4
z.B. Fiat Ducato Sunliving S70SL – Partially integrated










As a renowned car rental company in Berlin, Hanover, Leipzig & Augsburg, we are your professional when it comes to renting vehicles of many classes. With our comfortable and powerful camping buses and motorhomes, you can safely and reliably cover long distances without having to spontaneously look for a hotel at the stage destination. Whether for travel groups in the context of a city tour or for camping vacations with the family, it is worthwhile to rent a camping bus, or a motor home. Just contact our staff at one of our 8 stations in Berlin, Hannover, Leipzig & Augsburg.
Our Mercedes-Benz luxury camping buses with Westfalia pop-up roof all have extensive special equipment. Please note that some of the camping buses shown are example vehicles from the rental vehicle category Camper 'Bus'. If you would like to rent a specific make of bus, please let our staff know on the phone or when making your online reservation.
Do you want to be mobile and spend a special vacation away from package tourism? Then plan a camping vacation with one of our brand new motorhomes, such as the VW Grand California or the Fiat Ducato Sun Living. Our very well equipped vehicles leave hardly anything to be desired, so you will not miss anything in terms of comfort even on longer trips. Please note that for the time being you can only rent the motorhomes at our station in Leipzig. Enjoy the freedom and independence of life with one of our motorhomes.
Your ALLROUND car rental in Berlin, Hanover, Leipzig & Augsburg
Terms of use
Campers & Motorhomes
If you rent a camper van or a motorhome from ALLROUND Autovermietung GmbH in Berlin, Hanover, Leipzig or Augsburg, please note our general terms of use.
Driving license
To rent a camper/caravan you must be at least 21 years old
AND have held a driver's license for three years.
Travel abroad
With our rental vehicles a trip abroad is only possible if an explicit consent of our
consent of our employees has been obtained. If this has not been granted
the vehicle may only be driven in Germany.
Terms of payment/deposit
The payment of the rental costs is only possible with a credit or EC card.
In addition, a deposit of 500€ is to be paid in cash when picking up the camper or motorhome.
Cancellation fees
In case of cancellation of the contract by the renter before the agreed start of the rental period, the following percentages of the rental price are to be paid:
up to 50 days before departure: 50% of the rental price
up to 14 days before departure: 80% of the rental price
up to 7 days before departure: 95% of the rental price
No-show is considered as cancellation. For early return of the vehicle the full agreed rental fee is to be paid.
Final cleaning
The vehicle is to be handed over broom-clean. In case of excessive soiling, a special cleaning will be charged depending on the effort. The special cleaning will be charged with 69,00 € net per hour. Soiling caused by pets such as dog hair will be charged as special cleaning.
Toilet cleaning
The toilet is to be handed over emptied when the vehicle is handed over. If the toilet is full, a service fee of 100.00 € plus VAT will be charged.
Festival visit
The renter is not allowed to visit the area of a (music) festival with the rental vehicle. In case of violation of this agreement the renter has to pay a contractual penalty of 2000,00 € plus the legal value added tax to the lessor.
Pets
The bringing of pets is allowed.
Smoking
Smoking is not allowed in the vehicle.
Rent a camper or a motorhome
A camping-mobile offers you many possibilities to realize individual tours and to discover areas that normally cannot be visited to this extent. In Berlin as well as in Hanover, Leipzig and Augsburg, ALLROUND has numerous camping buses and motorhomes at your disposal. You hardly have to make any compromises, because ALLROUND car rental guarantees that nothing is left to chance. With our camping mobiles you will always arrive safely and quickly at your desired destination and spend the night there like in a real hotel.
Explore the surroundings of Berlin, Hanover, Leipzig & Augsburg
If you rent a camper at ALLROUND, you can decide completely unbound and free about your next destination. You do not necessarily have to drive only on the roads in and around the city, but you can also discover the nature all around. The surroundings of the cities of Berlin, Hanover, Leipzig & Augsburg also offer plenty of opportunities.
So you can also rent a camper for short trips and drive, for example, from Berlin to the Spreewald, to the Pfaueninsel, to the nature park Schorfheide-Chorin, to the Havelland, to the Mecklenburgische Seeplatte or for example to the Beelitz-Heilstätten. From Hanover you can drive to the Deister (a wooded mountain range), to the Steinhuter Meer or to Marienburg Castle. From Leipzig, it is recommended to visit the numerous castles and gardens, such as Marchern Castle or Delitzsch Castle. Augsburg is the perfect starting point to discover Bavaria. Whether to nearby Munich or to the Alps for skiing, with a camper or motorhome from ALLROUND these destinations can be reached quickly.
Neither in nor around Berlin, Hanover, Leipzig or Augsburg it will ever be boring. If you rent a camper or motorhome from ALLROUND quite uncomplicated and always at fair conditions, you are guaranteed to have a great time here and enjoy a relaxing trip.