Our Station Station in Leipzig – Heiterblick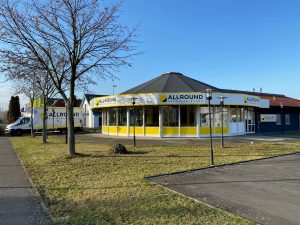 Car rental in Leipzig – Heiterblick
From 1.12.2020, ALLROUND Autovermietung, a family business with a long tradition, is venturing into Leipzig – Heiterblick.
The up-and-coming Leipzig metropolitan region with its numerous logistics companies, the large Leipzig Airport and the Leipzig Trade Fair offers great potential for ALLROUND as a car and commercial vehicle rental company. The site in Leipzig-Heiterblick, which is located between a toom DIY store and a Kaufland supermarket and was originally used and developed by a fast food restaurant, leaves plenty of room for free development.
At our new rental location, in addition to cars, buses and vans, refrigerated vehicles, trucks and trailers through to swap body vehicles, semi-trailers and tractor units in a wide range of sizes and designs can be rented.
Opening hours
Monday-Friday: 8 am – 6 pm
Saturday: 8 am – 12:00 am
We are your ALLROUND car rental company in Berlin, Leipzig and Augsburg.
With over 900 rental vehicles, we offer a wide range of mobility for every need. Our team welcomes you at 8 stations in Berlin, Leipzig and Augsburg.
Our teams will be happy to help you find the perfect rental car for you – from a normal car to vans and large trucks.
Experience the ALLROUND service today!