Welcome to the Truck section! You will find all categories we offer below. If you need help to find the right van
or truck or if you are looking for specific features, don't hesitate to contact our team any time! With more than
35 years of experience we are happy to help you to find the right size of van or truck. No matter if you are moving
the apartment, carrying furniture from Ikea or shipping goods professionally – we always have the right car for you!
Please note that the images below are illustrations. If you would like to hire a particular model, please let our team know while booking.
Your Allround Car Rental in Berlin and Augsburg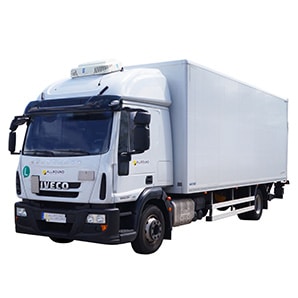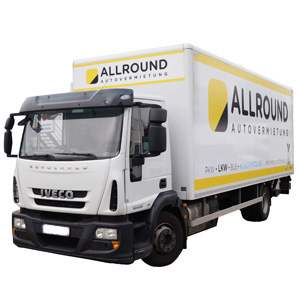 Category L9
e.g. 11,99t box truck with tail lift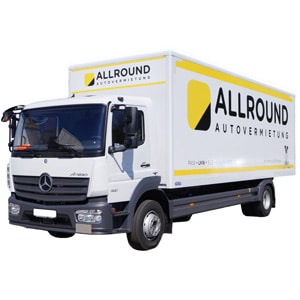 Category L9B
e.g. 15t box truck with tail lift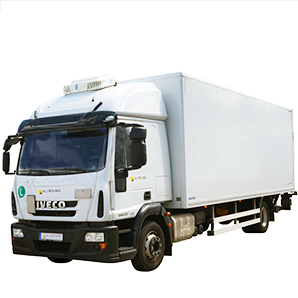 Category L10
e.g. 11,99t box truck / sleeping cab with tail lift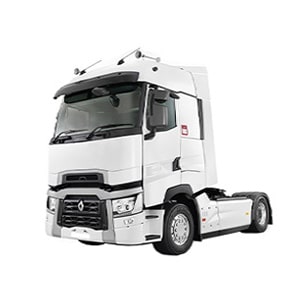 Category SZ
e.g. Renault T-460, Iveco Stralis tractor unit
Terms and Conditions
Please note our terms and conditions. You can find an overview
of the most important points below.
Driving licence
To rent a van or a truck in Berlin, you need to be at least 21 years old
and possess a driving licence for a minimum of three years.
Please note that for vans and trucks above 3,5 tons, German law
requires special driving licences. We are obliged to check if you have
the required licence before renting out the respective vehicle!
Going abroad?
To leave the state territory of Germany is a violation of the contract and
strictly forbidden. If you want to go abroad, please discuss your case
with one of our employees. If Allround explicitly consents your request
before signing the contract, trips abroad can be possible in exceptional cases.
Means of Payment
The only mean of payment Allround accepts are credit or debit cards.
Please note that if you pay by debit card, an additional deposit of
200€ in cash is required when signing the contract.