Our station in Berlin – Reinickendorf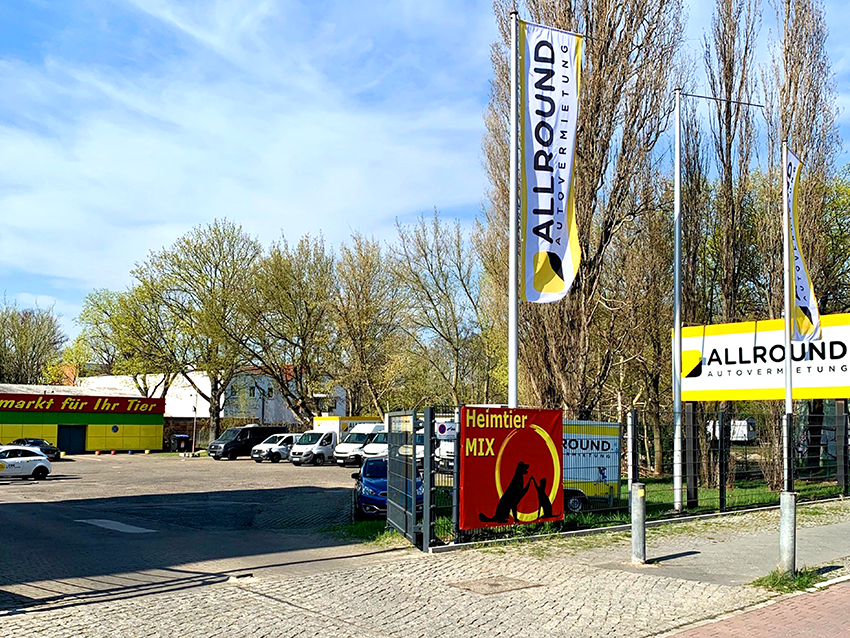 Rent a car in Berlin-Reinickendorf
Reinickendorf is located in the north-west of Berlin and is perfectly connected to the major highways from northern Berlin. The Märkisches Viertel, Frohnau and Wedding are virtually around the corner, making ALLROUND at Kurt-Schumacher-Platz the perfect starting point for excursions into the surrounding areas of Berlin.
In addition to our wide range of cars, buses and vans, we also offer trucks from small to large in large quantities. Whether dry or refrigerated transport – we can help you find the right vehicle for your needs.
Feel free to contact us if you have any questions. We will be happy to help you at any time.
Your ALLROUND car rental in Berlin-Reinickendorf
Opening hours
Monday: 7 am 6 pm
Tuesday – Friday: 8 am – 6 pm
Saturday: 8 am – 11 am
and 4 pm – 6 pm
Your car rental in Berlin, Hanover, Leipzig and Augsburg
Since more than 35 years we are your partner when it comes to car rental, van rental, truck rental and trailer rental. Our company is a family business and led in second generation already. Offering you about 1400 vehicles for any purpose our highest aim is to deliver best quality in terms of service and technical perfection.
At 9 stations in Berlin, Hannover, Leipzig and Augsburg – our fleet consists of modern cars, trucks, vans, refrigerated vehicles, trailers and construction mashines. Our staff in Berlin, Hannover, Leipzig & Augsburg will help you to find the perfect rental vehicle for your purposes.
Do you want to rent a car for easy drives through Berlin, Hannover, Leipzig or Augsburg? Do you need a larger vehicle to shuttle people to the airport, or just take your family on a trip? Our large fleet of busses will meet your demands easily. In case you are planning to move a large variety of vans and trucks will support you with your plans. If you are wondering about which size you need to hire our well trained staff members will give you advice via e-mail or telephone.
For our commercial customers we have attractive rates to choose from but also individual offers will meet any expectations possible. Delivery, long-term rental and special offers for vans, trucks and trailers are also part of our service. Our workshop for cars and trucks is available 5 days a week and a 24/7h emergency hotline will guarantee you the maximum of safety during your rental period. Technically, all cars and trucks are in top notch condition at ALLROUND. This allows you to concentrate on the important things after hiring a car or truck.