Rent a Bus in Berlin, Hannover, Leipzig & Augsburg
Welcome to the bus category. If the seats in our cars are not enough for you, you can easily rent a bus from us. ALLROUND car rental offers buses with 7 to 9 seats in Berlin, Hannover, Leipzig & Augsburg, which you can simply pick up at one of our 8 branches. The ALLROUND buses are available for you to rent in the version with one or two sliding doors.
As a renowned car hire company in Berlin, Hannover, Leipzig & Augsburg, we are your partner when it comes to rental buses and passenger transport. Our comfortable and powerful buses are reliable vehicles for professional or private carriage of guests, visitors or attendees of an event. Also. travel-groups or sightseeing tours can be managed easily by renting buses in Berlin, Hannover, Leipzig & Augsburg.
Welcome to the Bus section! Here you can find a great variety of minibuses you can hire in Berlin, Hannover, Leipzig & Augsburg in one of our 8 locations. Our minibuses provide different features to match all your needs. If you need a bus or a minibus with specific features, please contact our employees and we will find the right fit for you.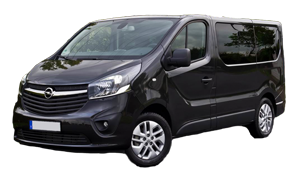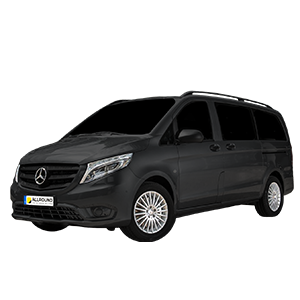 Category B1
e.g. MB Vito – extended wheelbase 9 seats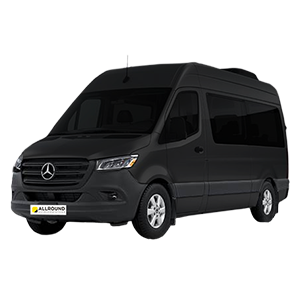 Category B2
e.g. MB Sprinter 9 seats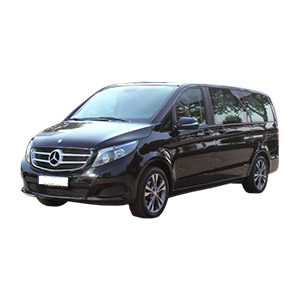 Category B4
e.g. MB V-Klasse extende wheelbase 7 seats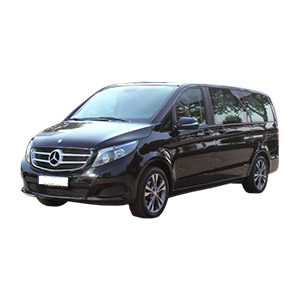 Category B5
e.g. MB V-Klasse extended wheelbase 8 seats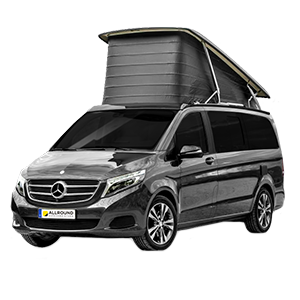 Category B6
e.g. MB V-Klasse Camper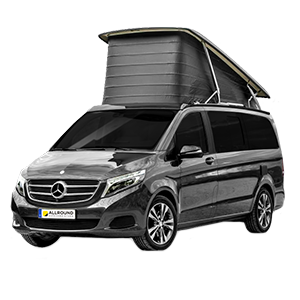 Category B7
e.g. MB V-Klasse 4WD Camper Marco Polo






Terms and Conditions
Please note our terms and conditions for the ALLROUND Car Rental Berlin, Hannover, Leipzog & Augsburg.
We have summarised the most important points below.
Driver's licence
To rent a bus, you need to be at least 21 years old
and hold your driving licence for a minimum of three years.
Going abroad?
To leave the state territory of Germany is strictly forbidden.
If you want to go abroad, please discuss your case with our employees.
If Allround explicitly consents to your request before signing the contract,
trips abroad can be possible in exceptional cases.
Means of Payment
Allround accepts only credit or debit cards and no cash money.
Please note that if you pay by debit card, an additional deposit
of 200€ in cash is required when signing the contract.
All busses from B3 and higher can only be paid by credit card.
Hire a minibus
A minibus offers you many possibilities to realise individual city tours and to discover sights. ALLROUND has numerous buses available for you in Berlin as well as in Hannover, Leipzig and Augsburg. You hardly have to make any compromises, because ALLROUND car rental guarantees that nothing is left to chance. With our minibuses you will always reach your desired destination safely and quickly. Berlin, Hannover, Leipzig & Augsburg in particular, with its sights, invites you to take an extensive tour in a rented minibus.
Sightseeing by bus through Berlin, Hannover, Leipzig or Augsburg
As the German capital, Berlin is not only large, but also extremely diverse and culturally interesting. In hardly any other city will you find so many attractive sights in such a small space. If you hire a minibus from ALLROUND rent-a-car, you can enjoy the entire cityscape in comfort, flexibility and without time pressure and explore the history of the metropolis. Renting a bus in Berlin – it's worth it. Berlin is indeed always worth a trip. Simply rent a minibus quickly and cheaply from ALLROUND and experience one highlight after the next on a sightseeing tour in Berlin – aha effects, holiday feeling, new knowledge and relaxed driving or travelling are guaranteed.
If you want to experience Berlin in all its glory, you can get to know the city from all sides on a self-planned sightseeing tour with a bus rented from ALLROUND. You don't have to adhere to predetermined stops or specific destinations in a fixed time frame at any time during your trip through Berlin. Individuality, flexibility and spontaneity are the trump cards: you are your own tour guide. With our comfortable minibus you will always get to your desired destination quickly. So you can enjoy and visit all the important landmarks, the impressive sights and the diversity of Berlin in a relaxed, comfortable way and in a good mood.
When you hire a bus from us for an individual city tour of Berlin, you can make a stop whenever you like. Detours to the Reichstag, the Berlin TV Tower or Alexanderplatz – affectionately known as Alex in Berlin – should definitely be fixed components of your tour. Of course, the famous Kurfürstendamm must also be on your list of places to visit. Boutiques of world-famous brands invite you to stroll here together with the most diverse shops. Are you interested in history? Then you should visit the Mauermuseum or, for example, the East Side Gallery with the bus hired for your small tour group.
The somewhat smaller cities of Hanover, Leipzig and Augsburg are of course also suitable for city trips with a bus from ALLROUND. Whether to the Marienburg Castle near Hanover, to the Zoological Garden in Leipzig or to the Schaezlerpalais in Augsburg. With our buses, families or tour groups can explore these cities comfortably from the road.
Explore Berlin's, Hannover's, Leupzig's and Augsburg's surroundings
When you rent a bus from ALLROUND, you are free to decide on your next destination. You don't necessarily have to drive only on the streets of Berlin's city centre. The surroundings of the capital also offer plenty of opportunities. You can rent a minibus for short trips to the Spreewald, the Pfaueninsel (Peacock Island), the Schorfheide-Chorin Nature Park, the Havelland region, the Mecklenburg Lake District or the Beelitz healing sites. There is never a dull moment either in or around Berlin. If you hire a bus from ALLROUND in an uncomplicated way and always at fair conditions, you are guaranteed to have a great time and enjoy a relaxed journey.
The surrounding area of Hannover has a lot to offer. The Deister is a wooded mountain range and the perfect area for hikers. With your bus from ALLROUND you can reach it in about 45 minutes. If you are looking for relaxation and recreation, it is recommended to drive to the Steinhuter Meer. On the largest lake in northwest Germany, you can go sailing, kite surfing or just lie on the beach. If you want to be enchanted by the courtly life of the 19th century, visit the (fairy tale) castle Marienburg. This is about 30 km from Hanover and is a great destination even in bad weather.
The surrounding area of Leipzig offers many magnificent castles and gardens, which are always worth a trip. Among the most beautiful castles are Marchern Castle and Delitzsch Castle. These are both about 20 km from Leipzig and can be reached by your ALLROUND bus in 35 minutes. Technology enthusiasts can experience a lot in the surrounding area of Leipzig. The Mining Technology Park, 15 km from Leipzig, shows, among other things, the complete extraction cycle of an open pit mine. In the disused open-cast mine Golpa Nord, you can visit mining equipment or even climb on it. If you are adventurous, you can also book a quad tour on the site.
A stone's throw from Augsburg is also the nearby city of Munich. With your bus from ALLROUND you can reach the metropolis in about 50 minutes. Whether you want to visit the annual Oktoberfest (d'Wiesn) or one of the many museums and theaters, a trip to Munich is always worth the drive.
If you rent a bus from ALLROUND in an uncomplicated way and always at fair conditions, you are guaranteed to have a great time and enjoy a relaxed trip whether in Berlin, Hanover, Leipzig or Augsburg.
Hire a minibus as an event shuttle
Our minibuses are not only the ideal solution for city tours and sightseeing tours. You can also rent special vehicles as shuttle buses for events of any size. Whether for the guests of a dream wedding, for trade fair visitors, for the participants of a seminar, for visitors of concerts or, for example, for the guests of internal company events. If you would like to hire an event shuttle bus in Berlin, Hannover, leipzig or Augsburg, you have come to the right place. With our buses you can offer your guests and visitors an excellent shuttle service. Hire a minibus from ALLROUND and bring everyone safely to their destination.